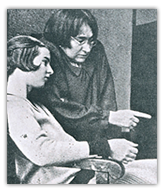 María Blanchard has been and continues to be the great unknown within the group of artists responsible for consolidating artistic renewal in the early 20th century. Despite the time that has passed, certain circumstances unrelated to her artistic development have led to large gaps and enormous contradictions in her life story and her work has remained in the background in comparison with that of her avant-garde peers and friends. However, Blanchard was equal and in some cases superior to the latter, above all in her particular way of understanding and perceiving Cubism.
Her various biographies have repeatedly focused on her physical appearance, giving the impression that this was the trait that definitively influenced her life and work, thereby fictionalizing her life and forgetting her struggle and artistic relevance. Although it is true that her appearance was a determining factor in her life, it is no less true that her strong character and tough existence earned her the respect of her colleagues, who came to accept her as an equal in an environment culturally dominated by men.
Many of her artistic contributions were forgotten due to the fact that when she died, and although she was working with important galleries in France and Belgium at the time, all her works were withdrawn by her family. This made it difficult for her work to be studied or disseminated and led to a long period of obscurity.
In Spain it also took a long time for her work to become known and even longer for her to be recognised as a great artist. This becomes clear if we consider that after the exhibition organised by Ramón Gómez de la Serna in 1915, Los pintores íntegros (Upright artists), her work would not be exhibited again until the Primer Salón de los Once (First Hall for the Eleven) which was held in the Madrid Galería Biosca in 1943. Only 33 years later, in 1976, would her work be exhibited again in that same gallery. The following year it was shown in Galería Sur in Santander and three years later in Sala Gavar in Madrid.
Similarly, there have been very few retrospective exhibitions about the artist. There have been three which are of particular interest due to their scientific approach. The first was held in the Paris Galerie de L'Institut in 1955 and focused on her cubist phase. The second retrospective took place in the Musée des Beaux-Arts in Limoges in 1965 and was curated by Marie-Madeleine de Gabrielli. The third such exhibition was curated by myself and organized by the Spanish Ministry of Culture, in the Museo Español de Arte Contemporáneo, to celebrate the 100th anniversary of her birth with the presentation of her complete works for the first time in Spain.
There are many reasons for proposing this exhibition and they are all related to her cubist work (1913-1919), with a limited overview of her previous work (1907-1913), which influenced her subsequent work to a certain degree, and a third group of works which represent a return to Figurative Art during the final years of her life (1919-1932).
Her early works are lacking in specific artistic personality and, as in most cases, are susceptible to the influence of her various teachers. We can observe the presence of Fernando Álvarez de Sotomayor, Emilio Sala, Manuel Benedito, Hermenegildo Anglada Camarasa and Kees Van Dongen. However, it is important to note that her work during these first few years is far superior to that of many of the painters who were working in Spain at the time.
During this initial phase she focused her iconography on portraits, through which we can trace her development. She goes from subdued colours and solid lines, close to the subject, to a greater wealth of colours, somewhat expressionist, and a richer, denser subject matter, using palette knife and a looser style to gradually free herself from traditional atavisms.
Following this phase, during which she effortlessly assimilated the work of other great artists, she took her first highly characteristic steps in cubism, her least known work which has been overshadowed by the preference of critics and historians for her figurative compositions. However, if any woman can be considered to have been a great cubist painter, then it is María Blanchard. She passionately immersed herself in this movement which she had been familiar with since the First World War, as we know from the descriptions, reviews and texts about her work that we have received.
There is no doubt, in my opinion, that the cubist work of María Blanchard is superior to that of her well-known peers, such us Albert Gleizes, Auguste Herbin, Louis Marcoussis, Jean Metzinger and Fernand Léger. If we also consider the handful of women who sporadically produced cubist works, such as Sonia Terk Delaunay and Alice Halicka de Marcoussis, with very occasional pieces, or Marie Laurencin, the companion of Apollinaire at the time, we can appreciate the importance of María Blanchard within the cubist movement.
The work of Blanchard shows a clear progression. Her initial Cubism produces simple works with easily identifiable figurative elements which she represents by means of superimposed geometric shapes, in line with the work of Diego Rivera. She later evolves towards a more synthetic Cubism, hand in hand, no doubt, with Juan Gris, with whom she shares not only friendship but also aesthetic principles.
In these compositions the subject matter is limited to essential elements, expressed through planes which are viewed from different perspectives. These works are closely related to the musical compositions and still lifes of Picasso, Braque and Gris, in which the elements in question are represented objectively, sometimes using collage as a substantial component. However, María Blanchard shows greater freedom in her interpretation of the subject matter than the aforementioned artists. Her poetics in the use of colour gives her a clearly defined personality which somehow frames her work within the artistic parameters of Orphism, the name given by Guillaume Apollinaire in 1913 to a colouristic and rather abstract tendency within Cubism.
We are therefore looking at a highly personal form of Cubism which stands out for its formal precision, austerity and command of colour.
With these works she not only achieved success but also the recognition of art dealers, critics and artists. She did not found a movement but she did contribute to the development of Cubism, with the same standing and importance as other artists of her generation.
In practicing Cubism, María found a form of expression which allowed her to show that, at least in terms of expressiveness, she was on a par with the best avant-garde painters. This was a crucial moment in her life and work. She not only produced some of her best pieces but it was also a time for sharing experiences with her friends, some of the closest being Diego Rivera, Jacques Lipchitz, Juan Gris and André Lhote.
It is highly significant to note that artists of such stature had no qualms about accepting her in their group. Indeed, in the case of Rivera and Gris, she shared studios and spent long periods travelling around Europe with them, as well as attending the usual artistic gatherings in Paris. We must remember, once again, that she was a "female artist" in a creative world dominated by men.
Her work from this period attracted the attention of the most important art dealer at the time, Léonce Rosenberg, who gave her a contract with his gallery, L'Effort Moderne, in 1916. Three years later he organized her first individual exhibition of cubist works.
As her work became known, she received universal recognition. In 1916, she was selected by André Salmon to participate in the exhibition L'Art Moderne en France (Modern Art in France) which was presented at the Salon d'Antin in Paris. In 1920, she was chosen by Sélection magazine for the exhibition Cubisme et Neocubisme (Cubism and Neo-cubism) which was presented in Brussels, together with Picasso, Braque, Severini, Lipchitz, Metzinger and Rivera. The following year she formed part of the legendary show Exposició d'Art francés d'Avantguarda (Exhibition of French Avant-Garde Art) in the Sala Dalmau in Barcelona.
Her works achieved such quality that various publications confused them with those of Juan Gris and even displayed them under his name. In the forties, Kahnweiler affirmed that unscrupulous individuals had eliminated the signature of María Blanchard from certain paintings in order to add the name of Gris, due to his greater market value. Even Diego Rivera highlights the importance of her work: "Her time in cubism produced the movement's best works, apart from those of our master, Picasso". In the view of Jacques Lipchitz, María Blanchard brought expressiveness and, above all, feeling to Cubism.
Historians such as Waldemar George and Maurice Raynal highlight her great sensitivity and strong Hispanic character. They observe the latter in green, black and brown tones and, above all, in her favourite subject matter, still lifes, which are seen to be a continuation of traditional Spanish painting, following on from the work of Sánchez Cotán and Zurbarán.
At the start of the 1920's, as with so many artists at the time, her art evolved towards new forms which were indebted to her time in Cubism. Her foray into the so-called Retour à l'ordre movement was nothing other than a personal solution to her need for artistic development. The representation of objects moved towards a figurative style in which the geometric structure of cubism still persisted, whilst the volumetric composition and luminous arrangement brought them closer to the works of Cézanne.
She entered this new phase with her own form of expression, using the human figure as an heir to her inner experiences, thereby giving her work a characteristic personality. This is a very interesting period, with a turning point in 1927 which led to a more sensitive, melancholic and poetic iconography in which a profound sense of reality underlies the technique, colour and drawing.
Distinguished French and Belgium dealers of the time, such as Paul Rosenberg, Max Berger, Doctor Girardin, Frank Flausch, Jean Delgouffre and Jean Grimar sought out her work and signed important contracts with her.
There is no doubt that the life experience of an artist has an impact on their work but the clear influence of María Blanchard's life on her work is a differentiating element which sets her apart. María brought the dramatic sense of her own existence to her work, giving a transcendental aspect to her figures. However, it was the very course of her life which paradoxically condemned her to oblivion. Perhaps its most dramatic elements, her illness, physical appearance and solitude, curtailed her recognition as an artist.
María Blanchard lived in complicated times, both for artists and women, which forced her to make harsh sacrifices, both in social and material terms, in order to devote herself entirely to painting. From a conceptual point of view, the transfer of experiences, pain and suffering to the figures portrayed on the canvas allows us to identify a certain parallelism between her work and that of the Mexican artist Frida Khalo.
Despite the fact that countless authors and critics have written about the artist (José Bergamín, Federico García Lorca, Gerardo Diego, Ramón Gómez de la Serna, Pierre Cabanne, Jean Cassou, Paul Claudel, Pierre Courthion, Maurice Raynal and Waldemar George, amongst others) her biography continues to be dotted with inaccuracies and our knowledge of her work remains insufficient.
This exhibition aims to pay tribute to the valuable contribution of a woman who devoted her entire life to art during the early years of the 20th century and was acknowledged by her friends, great artists, as one of the great. For Gris, the artist "has talent", whilst according to Lipchitz, María Blanchard "was a sincere artist and her paintings contain a painful sentiment of unusual violence". At the same time, for Diego Rivera, her work "was pure expression".